Introduction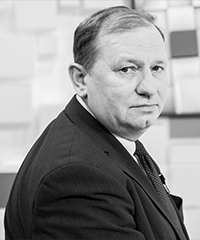 In 2014, Dr. Dainius Pūras became the first medical doctor to be appointed by the UN Human Rights Council as Special Rapporteur on the right to physical and mental health. Throughout his tenure, Dr. Pūras pushed for a paradigm shift in mental health care, writing several ground-breaking reports.
As a researcher and human rights advocate, Dr. Pūras has led and actively participated in projects at the national and international level in public mental health, policies and services for children and families at risk, rights of children with developmental disabilities, and violence prevention.
He is a professor at Vilnius University, Lithuania, and the director of the Human Rights Monitoring Institute, an NGO based in Vilnius.
---
A Brief Timeline: The right to mental health at the Human Rights Council
---
Legacy
"There is no health without mental health and there is no good mental health and well-being without embracing a human rights-based approach. There is an urgent need to invest more in mental health." (A/HRC/44/48)
I. Laying the groundwork for a paradigm shift
From the time he was appointed to the United Nations Human Rights Council in 2014, Dr. Pūras has pushed for a paradigm shift in mental health care, bringing mental health into focus as a human rights and development priority. While his work has occasionally been met with derision from some mainstream psychiatric institutions, he continues to draw attention to coercive practices and human rights violations and to call for greater investment in rights-based approaches to mental health care and suicide prevention.
During his mandate, Dr. Pūras developed several reports that emphasize the importance of the social determinants of health and criticize the dominance of the biomedical model and the medicalization of depression. In this section, we will briefly explore some of the most significant bodies of work (a complete list can be found below).
In 2017, the Special Rapporteur issued a ground-breaking report that called on States and all stakeholders to move towards "mental health systems that are based on and compliant with human rights." It encouraged a paradigm shift in the mental health field from a biomedical model to a human rights model, highlighting the harms associated with ignoring the social determinants of health.
II. Sparking global dialogue
"There is an inherent and universal value to supporting dignity and well-being; furthermore, it is a human rights imperative". (A/HRC/44/48)
The report sparked a global debate on the significance of leveraging a rights-based approach to mental health policy. An open letter welcomed "the global approach to health and psychological wellbeing ensuring the participation of diversity of rights-holders and relevant stakeholders including users and survivors, civil society and communities and empowers them."
The Special Rapporteur's 2020 report called on States and stakeholders to promote a paradigm shift in mental health and to adopt, implement, update, strengthen or monitor, as appropriate, all existing laws, policies and practices. The report triggered a critical response from the World Psychiatric Association (WPA) and the World Medical Association (WMA), in which they state they are concerned by "the inclination in the current global debate that persistently places into opposition human rights and medical ethics."
III. Looking ahead
Many stakeholders, however, have embraced this new approach. Though initially reluctant to accept the main message of the Special Rapporteur's reports, the World Health Organization (WHO) has recently built on the momentum created by Dr. Puras. In June 2021, WHO released their "Guidance on Community Mental Health Services: Promoting Person-Centred and Rights-Based Approaches." It presents successful examples of best practices in mental health service provision respecting dignity, moving to zero coercion, and eliminating neglect and abuse, and holds insight into the rights-based future of mental health.
There are some indications that show a possible change in the position of global actors who initially challenged the Special Rapporteur's 2020 report. Interestingly, the WPA was also involved in the preparation of WHO's "Guidance," which might hint at an evolving approach to mental health by leadership of global psychiatry.
---
Outputs
Throughout his tenure, the Special Rapporteur developed a significant body of work related to the right to mental health. A full list is below.
---
Photos